Inspired by pieces of coal that were decorated by Coaltoons creator Danny Faneebo, the coals were decorated with little eyes, a colorful mouth, nose and wild colorful hair. The big idea was to then place these cute and funny looking little coals inside of Christmas stockings in the same manner on how one would get a piece of coal in their stocking during Christmas for being naughty. That's when a lightbulb struck and the Coaltoons were born.
Through this inspiration, Coaltoons is an art brand created by Danny Faneebo and is brought to life in many forms from creative artists in their respective fields.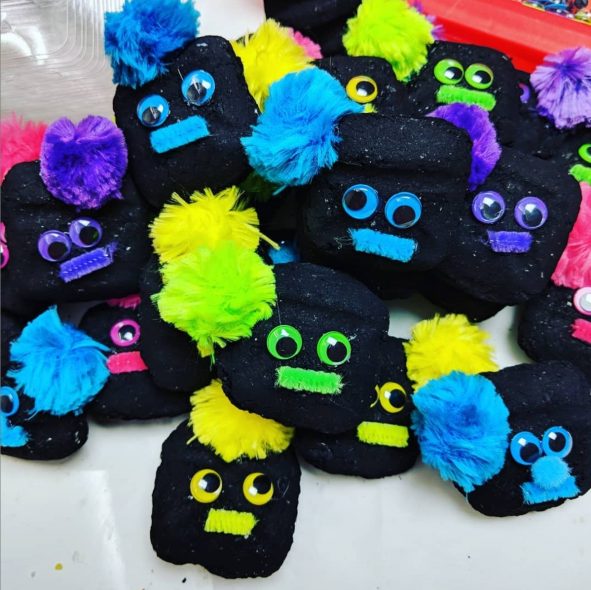 It started as a joke…
Twas the season during Christmas time, when all ideas for gifts had run dry. The number one question I ask during Christmas time: What should I get the naughty and the nice? The mind went blank for several days. A ponder here! A thought there! Then one cold night coming home from work, I wished I had a campfire to sit close by, to roast some marshmallows and sing about the old past times. Then that's when the idea struck me and a new question popped into my head:
Wouldn't it be funny if I gave coals for Christmas? Not just any coal. But a cute coal that had googly eyes with wacky hair and lots of personality!
The very next day…
I immediately went to Target to grab a bag of coal, then to Michael's Arts and Craft store to buy some glue gun sticks and the material to bring the cute little coals to life. While I was making some the coals and saw their personality come to life with their wacky colorful hair and googly eyes, I named them Coaltoons. They looked like little cartoon characters and of course, they were coals. That's when the Coaltoons were born.
As I sat on my living room floor gluing the eyes, the mouth and the hair to each coal, there was one BIG problem coming from these little Coaltoons: The coal dust was making a mess and getting everywhere. It was very chalky and getting on my fingers and just about anything they had touched. Right there and then, my idea to give these cute little coals for Christmas had failed.
A few years later…
Fast forward to September 2018. I decided to go back to the Coaltoons drawing board and bring them back to life. I researched ways to keep the coal dust from getting everywhere. With a simple Google search, I found some options. That was an easy fix. Next, I wanted to take it a step further and package them into a professional looking package. So I did my research on getting some boxes, designing a card insert for the package and making each coal by hand.
The finished product…
A T-Shirt Was Born
First comes art…
I love art. So after having a glass of wine one night, I decided that I wanted to paint some Coaltoons art. So I pulled out the canvas, the paints, the brushes, and I painted away. Pictured to the left is the very first Coaltoons masterpiece. This painting also helped to create the very first Coaltoons T-shirt.
Then comes a Coaltoons T-shirt
After I painted the first Coaltoons art masterpiece, I then wanted to put my art onto a T-shirt. So I took out my camera, I took a pic of the art, and then prepped it in illustrator to then have the very first Coaltoons t-shirt screen printed by Manzo Press Studio in Riverside, CA.
Coaltoons Pop-Up Shop
On September 29, 2018, Coaltoons participated in an art fair at the Galleria at Tyler in Riverside, CA. Here is the very first Coaltoons Pop Up shop table setup displaying the Coaltoons coals, the T-shirts and the original Coaltoons Artwork.